This post marks my 2-year WIAW Anniversary! Um, wow. Time…Crazy thing. It's nuts to me that it's been 104 weeks since I joined this weekly link party, and man, has the time flown.As always, thanks to Jenn for hosting. To see more WIAW from other bloggers, visit Peas & Crayons.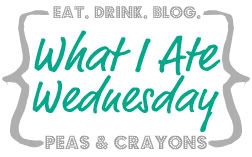 Let's play one of my favorite games!
Man, 2010's photos make me really glad I finally got into the habit of, like, doing my hair. Anyway. For this big-deal edition, I thought I'd share with you what I ate on Easter Sunday.
Breakfast: Plain Greek yogurt with chia seeds and fruit salad
Snack: Hummus with sliced pepper & baby carrots, a piece of dark chocolate-covered ginger
Appetizers: Blinis with caviar, smoked salmon, a slice of keilbasa, raw veggies; lambrusco to drink
Dinner: Baby kale salad, asparagus, ham, lamb, a slice of babka, a potato & cheese pierogi, and stuffed cabbage. I didn't finish everything here, but I enjoyed every bite
Dessert: A chocolate-chocolate chip cookie with peppermint glaze—just as delicious at Easter as at Christmas
Snack (unpictured) A sliced banana with nonfat ricotta between studying and folding laundry when I got home later
What are some of your favorite holiday foods? 
Hungry for more?
Subscribe to get the latest nutrition information, self-care strategies, and healthy living tips delivered right to your inbox.