One of the topics I really like to nerd out on is gut health, especially when we're talking about stuff like how what's happening in the digestive tract impacts the whole body. The gut-brain connection, for example, is something I could talk about for way too long, and I'm also fascinated by the role the GI tract plays in our immune system function.  To make a long story short, what's good for the gut is good for the rest of us.
I often recommend probiotics and probiotic-rich foods to my clients, as these beneficial bacteria help support a healthy gastrointestinal system. Yogurt is one of my favorite probiotic-rich foods, so when I found out that this month's Recipe Redux theme was gut health, I knew I wanted to do something with yogurt.  This recipe features Icelandic skyr, a very thick Icelandic yogurt, but any strained yogurt will do.
Aside from making this more filling, the fiber in here (from the coconut flour and the pumpkin) helps support regular digestion. I also used minimal sweetener (just a little honey in the homemade cranberry sauce), as sugar is one of those frenemy foods that can be detrimental to gut health.
I can't help it—when talking about frenemy foods and the like, I always think about this clip from Wayne's World where Garth says, "If Benjamin were an ice cream flavor, he'd be pralines and dick."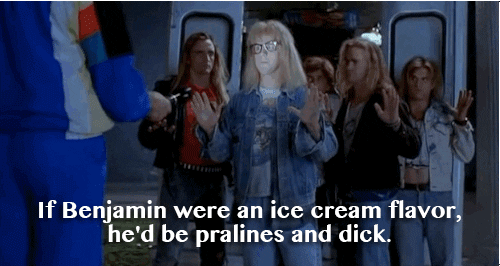 Credit: Giphy
(Yes, I have a Wayne's World quote for just about any occasion). And now you know how my brain works.
Anyway, today's recipe is packed with stuff that does you favors (like the vitamin A and C and potassium in the pumpkin, protein in the yogurt, and fiber in the coconut flour and pumpkin) and low in frenemy ingredients. By the way, I want you guys to know that those pretty layered yogurt parfait things are a royal pain in the ass to make. Please don't feel like you have to do any fancy layering here. Life is short, and there are way better ways to spend your time! If you want to just pour this all into a bowl and eat it, go for it. We're not fancy here.
Pumpkin Cranberry Yogurt Parfait
Serves 1 
Ingredients
3/4 cup plain skyr or Greek yogurt
1 tablespoon coconut flour
1/4 teaspoon vanilla extract
1/4 teaspoon pumpkin pie spice
1/4 cup pumpkin purée
1/4 cup Cranberry sauce*
Directions
Mix together yogurt, coconut flour, vanilla extract, and pumpkin pie spice.
Layer yogurt mixture in a glass with pumpkin purée and cranberry sauce-or skip the layering and mix it all together.
*To make cranberry sauce, pour berries into a saucepan, cover with water and bring to a boil. Reduce heat and simmer on low 1-2 hours until cranberries break down and you have a thick sauce. Stir occasionally to prevent sticking. Sweeten with honey or maple syrup to taste—I like a light hand because I dig tart flavors.
Enjoy!
What movie do you quote all the time? 

The Recipe ReDux is a monthly recipe challenge founded by registered dietitians that aims to inspire the food lover in every healthy eater and inspire the healthy eater in every food lover.
***This post may contain affiliate links
Hungry for more?
Subscribe to get the latest nutrition information, self-care strategies, and healthy living tips delivered right to your inbox.