Another Wednesday, another WIAW post. To see more from other bloggers, visit Peas & Crayons.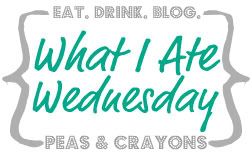 Today was another hot yoga day. I woke up feeling like this: 
…and felt like myself again by the time the hour had passed. 
Um, anyway…
Today was all about work and school projects. There have been some big changes in my life recently, and I've just been doing my best to just hold on for the ride and keep looking forward. For better or worse, this happens to entail a lot of typing. That said, it's especially important to make time for things like yoga (and exercise in general—good for the body and brain) and good food.
After getting home from class and blearily making a salad comprised of little bits of everything in my fridge, I realized I still needed some kind of grain, and popcorn seemed like the perfect solution. It also gave me a good excuse to try the brown paper bag trick I'd been curious about. The verdict? Success! How did it take me so long to give this a shot?  It was the perfect thing to enjoy while working on some super-fun Biochem flashcards…
Breakfast: Pre-yoga oats with banana, flax and cocoa powder, topped with PB
Lunch: Smoked salmon with goat cheese, tomato, and roasted pepper on an Ezekiel English muffin; a side of veggies (kale, roasted tomato, eggplant, and broccoli) 
Snack: Plain yogurt with a chopped plum and cereal
Dinner: Hastily thrown-together massaged kale salad with seitan and the same veggies from lunch
Snack: Popcorn
How was your Wednesday? What was the best thing you ate? 
Hungry for more?
Subscribe to get the latest nutrition information, self-care strategies, and healthy living tips delivered right to your inbox.