Happy What I Ate Wednesday! I can't believe the week is half-over. So far so good with this one. My work load has been a little lighter than normal, so I've actually had time to get things done at home and feel like a human being again.
I don't know what it was about today, but I had the hardest time focusing on studying. There's something about October that makes it really easy to work on poems and stories but impossible to read about macronutrients or discuss enzymes. I am totally guilty of scribbling lines of dialogue for a new piece throughout my first class today.
My Complementary & Alternative Nutrition class was really fun tonight, though. We did presentations on functional foods, and everyone brought in samples so we could all taste them. I brought in roasted cauliflower as part of my presentation on cruciferous vegetables, and there was also kefir, honey, chocolate-covered cranberries, sweet potato ginger muffins, blueberries, garlicky bruschetta and a margarine with plant sterols. Sorry I didn't get any pictures, but I felt kind of weird about taking pictures in class.
Since I got home so late—and since we'd had appetizers in class (hah), dinner was on the smaller side. It kind of bums me out that Chris often gets home even later than I do, but weeknight solo dinners can be good too.
Breakfast: Apple spice oats with sunflower seed butter and granola
Lunch: Egg-white cottage cheese omelette, giant salad; sliced up chocolate chip zucchini muffin for dessert
Pre-Class Snack: Greek yogurt with half a peach, strawberries, flax, and granola
Dinner: Red lentil butternut squash and apple soup 
Dessert: A peach that was on its way out; dark chocolate
How was your Wednesday? What was the best thing you ate?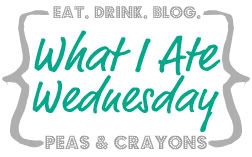 To see more WIAW posts by other bloggers visit founder Jenn's blog, Peas & Crayons. 
Hungry for more?
Subscribe to get the latest nutrition information, self-care strategies, and healthy living tips delivered right to your inbox.