Happy What I Ate Wednesday! It's time for another edition of the weekly link-up party where we take a voyeuristic look at what others on the Interwebs are eating. This week, I'm sharing a glimpse of what I ate while out in the suburbs this Saturday.
I woke up early to head out and take Eli to his first training class. Luckily, the timing worked out for a portable (and delicious) oats-in-a-jar breakfast. 
The little dude slept through most of the class, despite all the other dogs there. I felt bad because we'd been doing so well with our training before he got sick, and I feel like we're back at square one. It also doesn't help that his renal diet food doesn't exactly count as a "high-value treat," but we spoke with the instructor about things we can use instead, and I'm optimistic that he'll be able to relearn what we'd been working on and then some.
After puppy class, my mom and I ran some errands and popped into a local cafe for salads. Mine had greens, beets, cucumber, chicken, and avocado. It was really good! 
I treated myself to a massage at a local place and ran into a girl I'd gone to middle school with. It was really nice to see her, though I felt like an ass for not remembering her name at first. Getting old. Good times. After that, my parents and I had dinner (and a huge glass of wine for me). My mom and I shared some shrimp cocktail…
…and we both ordered miso-glazed salmon with spinach and parsnip puree as our main dish. I seriously crave this and hadn't had it in a long time. So freaking good. I'm proud of myself for sticking to just one giant glass of wine. I knew I had an event the next morning, though (shout out to Farmigo for coming to NJ and spending your Sunday with me), so a hangover on top of a lingering cold did not sound fun. 
Poor Eli. When we got home, my mom and I dressed up the dude in his dragon Halloween costume. He was actually okay about it, but pouted a little, like, "Mom, why did you put a dragon on my back? You're so weird." 
He knows I love him, though. We had a lot of snuggle time and walks together this weekend. I always cry a little when I say goodbye to him, but he's having a blast with my parents and their dogs, and that makes me happy. We're all just keeping an open mind about the situation and figuring we'll all kind of know if/when it's the right time for him to come live with me again. Sometimes I wonder what I'm going to be saying in 5 years about this experience of bringing a dog into my home and then the neighbor drama and then him getting sick and going to stay with my family. What am I supposed to be learning right now? All that really matters, though, is that he's doing great and seems healthy and is growing and happy. He has this little smile that totally slays me. SO f***ing cute. He's also shown me some parts of myself that I didn't even really know were there. He's certainly softened some of the rough edges. I'd always wondered if that was possible, and it's been a relief to see that it is.
Anyway, after taking Eli out for his last-call walk, I had a sliced-up apple and some tea with honey, cayenne extract, and a bunch of cold-fighting herbs. I always crave apples when I'm sick, so this totally hit the spot. 
Another WIAW that ends with me face-planting. What can I say? I'm firing on all cylinders most of the day, so every night it's the exact opposite. Family blessing/curse.
What foods do you crave when you're sick? Do you dress up your pets for Halloween?
To see more WIAW from other bloggers, visit founder Jenn's blog Peas & Crayons.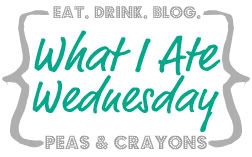 Hungry for more?
Subscribe to get the latest nutrition information, self-care strategies, and healthy living tips delivered right to your inbox.