Happy What I Ate Wednesday. For those new to the party, every Wednesday, I link up with a bunch of other bloggers to share a day of food.
This week's unofficial theme is "What an on-duty RD eats," but that sounds totally lame, so let's just call it "Another Sunday at the Hospital." This past week, I was working an earlier shift than normal so I could get out in time to take Eli to his puppy-training class. I clocked in at 7:15 and enjoyed a cappuccino while I screened all the floors and got a sense of the workload for the day. Luckily, there was another RD coming in a bit later, and between the two of us, things were totally manageable.
Given the early start and dealing with the MTA that much earlier on a Sunday morning, I'd had a feeling I'd be exhausted/potentially cranky, so I packed a fancy desk-breakfast. This was a mini-quiche/frittata made with egg whites, wild mushrooms, kale, and goat cheese, served over a bed of veggies and with a Dr. Praeger's sweet potato pancake. 
This totally hit the spot and kept me going all morning. Lunch was from a local salad place. This had greens with shrimp, beets, roasted pepper, cucumber and avocado. I had a pink lady apple and iced coffee for "dessert."
Since I knew I'd need some slow-burning energy to get me through Eli's puppy-training class right after work, I enjoyed a hearty snack that packed in a lot of protein, fiber, and some healthy fat. I had totally forgotten ho much I love these Fiberlove bars. Crumbling bars into yogurt makes me think of grad school, when I used to have to make it through marathon-like days/nights balancing work, classes, labs, and volunteer work. I basically felt constantly hungry and rushed for4 years straight.  Not that I don't feel rushed sometimes now, but it's rushed doing things I love that I am not being graded on.  
Clock-out time came really quickly. Time flies when you're having fun. I was wiped out on my way home, but the second I walked in the door and saw Eli, I perked right up. I love coming home to this little weirdo. 
He's actually not that weird—he just makes funny faces and has a few silly habits. I'm super-lucky that he's so well-behaved and chill for a 5-month-old. He's also a quick learner. It's been really neat to learn how to teach him to sit and lie down and to witness that "ah-ha" moment where he's like, "Oh duh, if I do this thing I get a treat. I'm going to start doing this thing now because I like treats." I'm learning just as much as he is. I just wish there were a "Please don't bark when I'm in the shower in the morning!" trick I could teach him. I'm told he'll outgrow this, but those 13 minutes when I'm getting ready I'm praying he doesn't wake anybody.
After puppy class, we walked back home and he played with some of his favorite gal-pals for a while. Dinner came from the freezer: Yellow split pea soup and a side of toasted Ezekiel bread with avocado. I added a big spoonful of nutritional yeast to the soup too because I wanted to add a little more protein but didn't feel like cooking an egg or anything. I enjoyed a square of dark chocolate afterwards.
For dessert, I made another peach crumble. This time I remembered to add a little bourbon (~1/2 tsp—really just for flavor). I had no ice cream or anything along those lines, but I did have some of my favorite non-fat ricotta. This picture is ugly as hell, but I promise it was delicious. 
What do you eat when you know you need to go a long time between meals?
To see more WIAW from other bloggers, visit founder Jenn's blog Peas & Crayons.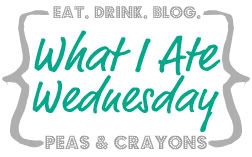 Hungry for more?
Subscribe to get the latest nutrition information, self-care strategies, and healthy living tips delivered right to your inbox.