Welcome to another What I Ate Wednesday that is not about workaholism/small business ownership! Last Saturday, I went to a Greek wedding in New Jersey. I went out a little early to get my yearly eye check-up and to have lunch with my mom.
Before a big event like a wedding, I like to enjoy regular, nourishing meals earlier in the day so I don't get hungry, cranky,and/or wasted.
So we went Panera. I went for the chicken & hummus power bowl—so freaking good. 
A few hours later, I had an apple while getting dressed because I suspected the ceremony was going to be a little long. I was correct in my assumption and thankful I'd thought to pre-empt any potential hangry-ness. Even though I usually get emotional at weddings, not knowing the language made it hard to know which part I was supposed to cry during.
The reception was really lovely. Part of me would love to have captured more of it to share with you, but after the last wedding I went to, I decided to keep the food photos to a minimum. I did snap a few, but mostly I enjoyed catching up with friends, dancing, and scoping out the eye candy. Oh, and eating. There was so much beautiful food—anyone looking for a top-notch wedding venue in New Jersey, try The Grove. Whether your peeps want delicious eats or are into giant chandeliers that change colors, they've got you covered.  
Though I did enjoy a few adult beverages, I really didn't want to get drunk or have to deal with a headache, so I kept it to two-and-a-half. Since I was staying at a nearby hotel instead of going home to the city, I wanted to actually enjoy a restful sleep in my giant bed instead of suffering an all-night toss-and-turn "I'm going to die alone"-fest. Luckily, I was seated next to someone who was also not interested in getting trashed (they were driving), so I felt like I was in good company. My friends thought I'd booked my own room in case I happened to "score" that evening, but the honest truth was that I knew I'd need some space. Not like I know what I'm talking about when I say, "Why by the cow," but trust me: Why buy the cow when you can have the milk for free?
The next morning, after hitting up the hotel gym, I met up with a couple friends for the free breakfast in the hotel lobby. The selection was actually better than I'd anticipated, so I dressed up my plain oatmeal with some cinnamon, peanut butter, and some hemp seeds from home. 
To see more WIAW from other bloggers, visit founder Jenn's blog Peas & Crayons.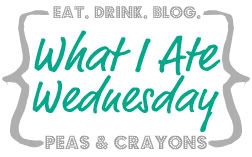 What was the best wedding you've been to? What do you like to eat before a big event?  
Hungry for more?
Subscribe to get the latest nutrition information, self-care strategies, and healthy living tips delivered right to your inbox.