Happy Wednesday, guys! Did you enter  my FBG Anti-Diet Book Giveaway yet?
Working  Friday-Monday at the hospital does weird things to my brain. On the one hand, it's cool to be up and out, making money while other people are sleeping, but I definitely struggle sometimes with carving out "weekend" time. What I've been doing is trying to set aside a morning or afternoon when I don't have any clients to do something like go to a yoga class or get a massage or make plans with a friend who also has a weird schedule.
For this week's What I Ate Wednesday, I thought I'd share this week's Monday-as-Friday/Saturday.
Because I am a rockstar who was up at 5:14 (6 minutes before my alarm) despite feeling a little depleted, so to speak, from the previous evening's glass of prosecco, I started with a pre-workout pink coconut water…
As I got the Music Monday post and mailing straightened out, I had a hardboiled egg and some tea to keep the hungry monster away. On the days I work at the hospital, I prefer to eat my "real" breakfast after rounds, so having a snack before running out the door seems to work out pretty well.
Food-wise, the theme of the day was "Stuff in Bowls."

Breakfast:Plain Greek yogurt, flax, cinnamon, berries, a little cereal for crunch…
Lunch: Kale salad with chickpeas, hemp seeds, random veggies I needed to use up, and some hummus.
Snacks: Hard-boiled egg; green apple; a few sesame crackers; non-fat ricotta with a chopped roasted fig
Dinner: Brown rice pasta with asparagus, lemon, arugula, canned crab, and a ton of dried basil.
Lesson learned: Do not put canned crab in your pasta. My college self who used to do this all the time must have been out of her mind. Before Monday night, I hadn't eaten this combination since, like, 2007, and now I know why. I'm sure there's a way to do it right, but I'm officially not interested.
I actually did find time to have tea with an RD friend between work and dinner. Mint-tea happy hour—yes. It was such a breath of fresh air.
After dinner, I got some work done and then had a banana with some peanut butter before face-planting into bed. I'm aware that many of my blog posts involve face-planting into bed. A girl does what she can…
To see more WIAW from other bloggers, visit founder Jenn's blog Peas & Crayons.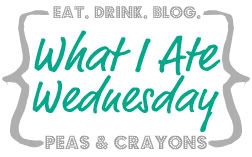 Do you work Monday to Friday or do you have an unconventional schedule? What's your happy-hour favorite? Crab in pasta: yay or nay?  
And remember to check back tomorrow to see if you won last week's FBG Anti-Diet Book Giveaway!
Hungry for more?
Subscribe to get the latest nutrition information, self-care strategies, and healthy living tips delivered right to your inbox.