This week's What I Ate Wednesday is all about fun weekend stuff!
Saturday I went out to New Jersey for an event at Athleta. The weather was gorgeous—I even wore sandals with this H & M dress. 
I had a cute little set-up in the back where I got to speak with so many lovely people. Quick shout-out to TastyMakes for providing some delicious  raw snacks! 
Because I was in New Jersey,  I got my nails done with my mom and sister. Then we picked up my dad and went to a restaurant my sister and her boyfriend like called Fiona's. We shared a few appetizers ("Shrimp on Fire," a caprese-style salad, and eggplant rolatini) and then I had a When Harry Met Sally moment when I asked for the salmon with the mustard sauce on the side. Delicious! 
Then we ordered a piece of chocolate mousse cake for the table. Also lovely. I had a couple bites and a cup of tea.
I basically passed out on my parents' couch watching The Secret Life of Walter Mitty. Need to get it on Netflix so I can see the end!
Sunday I had a bridal shower for a dear, old friend. On Sunday morning, I had my salmon leftovers for breakfast along with some veggies my mom had made on Friday. I ended up needing a little snack of Greek yogurt with cinnamon & flax before leaving for the shower because I'd been up since 6 and worked out to kill time. Certain times of the month, my stomach is a bottomless pit of despair…until it suddenly isn't. Ah, hormones. Luckily, there was plenty of food (and champagne) at the shower. It was so nice to see some people I hadn't seen in years. Crazy how weddings bring people together.
Per Mother of the Bride, Table Six was "The Sexy, Edgy Table." Adorable.
To see more WIAW from other bloggers, visit founder Jenn's blog Peas & Crayons.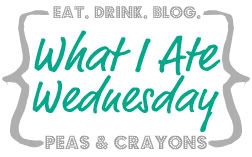 What was the best thing you ate last weekend?
Hungry for more?
Subscribe to get the latest nutrition information, self-care strategies, and healthy living tips delivered right to your inbox.