What I Ate Wednesday, we meet again. How's your week going? I feel like I'm still coming down from the excitement preparing for last night's event. One of my favorite things about being a dietitian is being able to do workshops and other healthy-eating events in the community. I want to give a big shout-out to the folks at Athleta for being so great to work with! Also, thank you to everyone who came out! I had so much fun! I'll have a post about the event soon.
Monday, I was working from home, which was a great opportunity to tie up loose ends for Tuesday. I also had quite a mountain of emails to tend to after working at the hospital Saturday and spending most of Sunday in Queens catching up with friends. One of the things I underestimated when starting my own business was just how much time I would spend on it. It's what I wake up thinking about in the morning, and it's what's on my mind when I go to bed. For better or worse, it doesn't even feel like work because I'm doing something I'm passionate about that allows me to use my skills while also learning new ones. Turns out that "labor of love" cliche is true.
One thing I should admit, though, is that on my work-from-home days, my meals do not score very high on the "presentation" side. I see nothing wrong with eating salad right from the mixing bowl…
Here's what I ate this past Monday. I wasn't planning to make it a meatless one, but that's what happened:
Breakfast: A smoothie similar to this one, except with chocolate whey protein powder. Of all the protein powders I've tried, whey is still my favorite—love the texture! I also feel it keeps me full for much longer than other types, and I can practically feel my muscles saying, "Thank you" after a workout when I have this for breakfast after. An aside: it happens to make smoothies taste like a Wendy's frosty. Not sure if this is a good thing or a bad thing, but hey.
Lunch: Another giant salad, with butter beans and tons of roasted veggies, plus a little avocado. A little later, I had a single-serving bag of Trader Joe's kettle corn. Totally forgot to take a picture, though. Whoops!
Snack: Plain Greek yogurt with flax, cinnamon, and a few blackberries, topped with a drizzle of the rosemary fig honey I've been enjoying lately.
Dinner: I was trying to use up some kale, so I added some Trader Joe's falafel, roasted veggies, hummus, tahini, and goat cheese.
Snack: Another photo fail: a sliced banana with PB2.
To see more WIAW from other bloggers, visit founder Jenn's blog Peas & Crayons.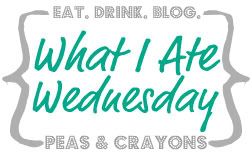 How do your meals differ from when you're at work vs home?  
Hungry for more?
Subscribe to get the latest nutrition information, self-care strategies, and healthy living tips delivered right to your inbox.