Good morning and happy What I Ate Wednesday! How's your week going? I'm not sure if it's the darker mornings or the later sunlight or just the fact that I've been feeling extra-productive, but I feel like every day is actually two—not in a bad way. On the one hand, I can't believe we're already into the second half of March, but on the other…is it April yet? It's not that I'm hating on March—I'm just that excited for "real" spring. However, my horoscope says April is going to be the hardest month of the year because of two eclipses we have coming our way, so maybe I should take a breath and enjoy the present moment.
Saturday was actually a great example of my doing the latter. Just because I get "the buzz" from work and personal projects doesn't mean I'm immune to needing to step off the track for an afternoon to relax. Remember when I was talking about drink math on Monday? Knowing that I have an event to look forward to where I'll want to have a glass of wine or a cocktail makes it easier to hold off when I'd otherwise be inclined to declare it Wine O'Clock. Saturday was an example of a day where I knew I'd want to have room in my week for a couple adult beverages. Since 2014 hit, I've been making an effort to only drink alcohol on 3 days of the week—I wanted to see if it increased my productivity. So far, it's been great thing! There have been a couple weeks where there were four days with events where I had a drink at each, but for the most part, it's been surprisingly easy to stick to—and fewer wine headaches. Definitely a plus.
Anyway, let's take a look at the "what I ate part" of Saturday, shall we?
This slideshow requires JavaScript.
Breakfast: My current favorite green smoothie
"Brunch"/Lunch: Baked eggs in tomato sauce at the Penrose; a glass of cava during the cocktail portion of the Women Who Brunch event
Snacks: Dry-tasted edamame; a gin & club soda at Luckydog (because gin totally counts as a snack on Saturdays?)
Dinner: Red lentil chili and toast with hummus & roasted pepper
Dessert: A sliced apple with PB and fig & ginger preserves
To see more WIAW from other bloggers, visit founder Jenn's blog Peas & Crayons.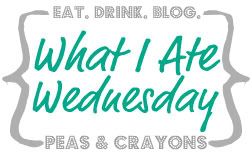 What do you get "the buzz" from? Do you limit the number of days you consume alcohol? What was the best thing you ate last weekend?