Since I've posted a few work-day WIAW's in a row, today's What I Ate Wednesday post is from last Sunday, when I enjoyed lunch and a movie with my family and did zero work. As always, many thanks to Jenn of Peas & Crayons for hosting the weekly link party—take a little trip over there to see more WIAW from other bloggers!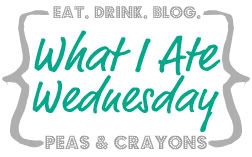 Since I saw plums at Fairway the other day, oatmeal with plum and tahini is becoming a regular thing again. This will always be one of my favorite breakfasts. Sometimes I cook in an egg white, as I did recently, as I was really hungry after a sweaty workout and knew lunch would be a way's away. Of course, my stomach was growling an hour before I was supposed to meet my family for lunch. Apparently, I am that weirdo who snacks on roasted broccoli. It's so freaking good. If you haven't, you should try it! We enjoyed a late lunch at Shun Lee, which is one of my dad's favorite places. We shared a bunch of things. The soupy dumplings (the one on the spoon) actually came with instructions for how to eat it—I wish I had taken a picture! At the end of the meal, we all laughed over our fortune cookies. I can't not add "in bed" to mine…
After walking around for a while, we saw Twelve Years a Slave. Finally. PMS or no PMS, I think the waterworks were inevitable. That said, it was so well done, and such a story! I'm very curious to read the book now…
Anyway, here's the "What I Ate" part of this week's post. Hope you enjoyed some tasty things this weekend too.
Breakfast: Plum oatmeal with tahini
Snack: Roasted broccoli
Lunch: Veggie and "soupy" dumplings, spare ribs to start, followed by Szechuan shrimp and broccoli (yep, more broccoli) and orange beef; an unpictured glass of sparkling wine (I love bubbles with Chinese food) and a bite of my fortune cookie
Dessert: A nonfat latte from Le Pain Quotidien and a few bites of a shared raspberry ganache I forgot to snap a picture of
Dinner: A Mediterranean-spiced stuffed pepper with veggies & hummus, topped with goat cheese
Snack: A sliced banana—I didn't bother with a picture because, well, we all know what a banana looks like…Why do I feel like I just made a dirty joke?
What was the last movie you saw in theaters? What's your go-to Chinese food order? 
Hungry for more?
Subscribe to get the latest nutrition information, self-care strategies, and healthy living tips delivered right to your inbox.