So, Wednesday. I'm not gonna lie—this week is a little cray-cray thanks to playing catch-up after my vacation week. For better or worse, I actually have another day off from my clinical job today because I still have time to use up before the end of the year.  I hope you're enjoying a great week so far, though!How about we do some What I Ate Wednesday? As always, many thanks to the lovely Jenn of Peas & Crayons for hosting the weekly link party—hop on over there to see more WIAW from other bloggers!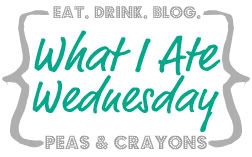 After some belated birthday karaoke happens on Friday night, my Saturday was pretty mellow in comparison. I did, however, see Inside Llewyn Davis (not the strongest plot ever, but if you're a sponge for 1960's folk music as I am, you'll enjoy it) and eat some good food. So, without further ado…
What was the best part of you weekend? Best thing you ate? 
Hungry for more?
Subscribe to get the latest nutrition information, self-care strategies, and healthy living tips delivered right to your inbox.