When I was a kid, I used to love when the local paper came. I'd immediately turn to the Police Blotter to read about the week's madness. Usually it was stuff like suspicious vehicles and lost pets. However, there was this one week that was, like, the king of all Police Blotters. It may be sad that I still remember this so many years later, but a few of the highlights were the person who drove their car into someone else's yard and said, "I think I took some oxycontin" when questioned and also someone who got arrested for smoking marijuana while out walking their dog in a residential neighborhood.
I think that was the week it finally dawned on me that the talk was all true: I was living in the kind of place where there were a lot of second wives and paid-off first wives and lots of people on lots of prescription drugs and kids had access to money and things that money can buy if you know who to ask. As a child, I obviously didn't understand any of that, but as a teenager, it began to crystallize. Still, for better or worse, I was way more interested in writing poetry than getting high or drunk. I don't even think it occurred to me to dip into my parents' liquor cabinet until I was old enough to buy my own damn booze. I spent most of my money on CDs (remember those?) and gas for the car. Hah yeah. Once upon a time I used to drive and didn't suck at it.
So yeah, I was a nerdy, good kid. Still, I was a kid with an appreciation for good stories. If nothing else, it prepared me to work in healthcare…
Long story short, I currently work in a vortex of crazy. Not that this is anything new. My intern partner Ryan (who spent 3 weeks with me during on Behavioral Health rotation at the mental hospital and was there to witness what he calls not my finest moments) says I attract chaos, but I would rather believe that I just have a high tolerance for wtf-ness than that I send out "give me your best crazy" vibes. Before this becomes a post about the fact that I'm something of a new age hippie in a lab coat, let's just call my workplace a circus. A mother***ing cosmic circus.
In the past week alone, there have been some bizarre incidents. From patients possessing substances and objects they should not possess to groups of them imbibing things that are not permitted on the unit to alarming behaviors, it's been a wacky time. To be completely honest, sometimes I get a little nervous, but I try to just stay positive and quietly alert, treat people well. On some level, though, you do just have to laugh about this stuff, especially when it's out of your control. It is pretty amazing, though, how often I take a mental step back and say, "How is this my life?"
Because this is What I Ate Wednesday, here's a look at what I ate this past Monday to get me through a whirlwind day at the circus.
Breakfast: Zucchini bread oats & coconut PB
Lunch: Salad from home dressed up with veggies from work; some unpictured Trader Joe's Pumpkin crisps (I put individual servings into ziploc bags and keep them in my desk drawer)
Snack: Greek yogurt with cereal and jam, a few berries (sorry for the recycled pic); later, a gingerberry "black label" kombucha
Dinner: Leftover turkey pumpkin  meatloaf and veggies; a square of coconut dark chocolate
Snack: Sliced pear with PB2 sauce
Thank you as always to the lovely Jenn of Peas & Crayons for hosting the weekly link party. Take a visit to see more WIAW from other bloggers!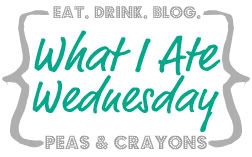 Do you attract crazy? What are your go-to foods for stressful days? 
Hungry for more?
Subscribe to get the latest nutrition information, self-care strategies, and healthy living tips delivered right to your inbox.