Happy Wednesday! I'm still recovering from presenting my capstone project last night. It hasn't really hit me that I'm basically done with grad school, but hey, no complaints! Of course, there's always time for a little What I Ate Wednesday. Thank you as always to the lovely Jenn of Peas & Crayons for hosting the weekly link part. Take a visit to see more WIAW from other bloggers!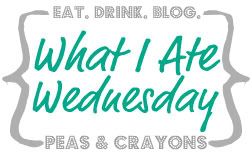 Since this week has been super-busy, here's What I ate on Mothers' Day. My mom is ridiculous (and I mean that in the best way possible)—she's the only person I've ever met who wanted to spend her Mothers' Day cooking for 15 people. Everything was delicious and everyone seemed to have a really nice time. The only problem with afternoon dinners (at least for me) is that I get hungry around my normal dinnertime. It's rare that I'm able to eat dinner at 3 and make it all the way to bed without my stomach growling. Over time, I've learned to just treat the early dinner like it's a late lunch. Whatever works, you know? Eat when you're hungry, stop when you're full. Eat again when you get hungry 6 hours later…
Breakfast: I'm still on a breakfast jag. You're probably seeing me post zucchini bread oatmeal on Wednesdays, but I eat it at least 3 or 4 times a week right now.
Appetizers: Veggies with salsa & spinach dip, tomato & mozzarella
Linner: Shrimp, ribs, salad (mixed greens and also this lovely pickled beet salad my mom made), asparagus, potato & cheese pierogi; a glass-and-a-half of my favorite sparkling shiraz
Dessert: Vanilla ice cream with strawberries
Second Dinner: (unpictured) A salad using up a bunch of leftover veggies; toast with hummus & eggplant
Do you ever need to a eat a "second dinner" after family gatherings? 
Hungry for more?
Subscribe to get the latest nutrition information, self-care strategies, and healthy living tips delivered right to your inbox.