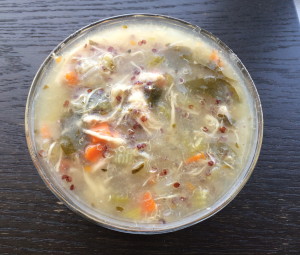 Talking to patients and clients and, you know, being a human, it seems that winter is an intense time for a lot of people. Life gets messy sometimes, feelings get complicated. The weather does not cooperate and our immune systems play with our expectations.
There's a lot to be said for the benefits of adequate sleep, exercise, and some form of therapy. However, I think soup is also a very important part of the winter survival process. Today I have a simple chicken soup for those weeks when you just want to hide under the covers.
For this recipe, I made my chicken in the slow cooker before I went off for an afternoon at the clinic so it would be ready when I got home. You could also use a rotisserie chicken from a store and remove the meat from the bone and trim off the skin. You could also roast your own or brown the meat and then add the rest of the ingredients—it all depends on your comfort level, time, and kitchen set-up.
Ingredients:
For the chicken:
1 lb boneless, skinless chicken breasts or thighs, cooked
2 cups low-sodium chicken broth
1 tsp each rosemary and oregano
Zest of 1 lemon
For the soup:
1 tbsp olive oil
2 stalks celery, diced
2 carrots, peeled and diced
1 small onion, diced
1 cloves garlic, minced
1 tsp each rosemary and oregano
8 cups water or low-sodium chicken broth
1/2 cup cooked quinoa (optional)
3 cups baby spinach
Salt and pepper to taste
Directions:
Place chicken in slow cooker and top with broth, spices, and lemon zest. Cook on low 4-5 hours.
Heat olive oil in a large pot. Add celery, carrots, onion, garlic, and spices. Cook until soft.
Add water or broth and bring to a boil. Reduce to a simmer and add quinoa. Cover.
Cook for 15 minutes. Add quick and spinach and simmer another 10-15 minutes. Season with salt and pepper to taste.
What's your favorite winter survival tip?
Directions:
Hungry for more?
Subscribe to get the latest nutrition information, self-care strategies, and healthy living tips delivered right to your inbox.