Welcome to another What I Ate Wednesday. You can find out more about the series and read other bloggers' entries at founder Jenn's blog.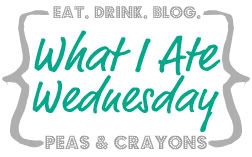 Is it just me or is this week flying by? I totally did that thing on Tuesday where you forget you're going out of town Friday so you buy lots of gorgeous fruits and veggies that need to get used up ASAP. Not like that's so hard. The more color on my plate, the happier I am.
I had a late start at the clinic, which meant staying a little late and having to rush to make a business call at 6, but it was totally worth a leisurely morning of working out, reading the paper with breakfast, and writing. One day I hope to have the kind of schedule that allows me to do that all the time.
I'm a little nervous about my x-rays tomorrow and what I'll find out (or not find out) about my foot, but I'm trying to stay upbeat. And by "trying to stay upbeat" I mean "trying to pretend I'm not totally freaked out." I don't know what's scarier: the possibility of finding out it's something awful that requires surgery, or finding out they have no idea what's up.
At least I've had a nice Wednesday and a low baseline level of stress. Chris and I were both home for dinner tonight, so we kept it easy with veggie burgers and an episode of In Treatment. Then we hung out up on the roof for a while.
Today's food items also contributed to a low level of stress—lots of color, lots of flavor, lots of crazy-fighting nutrients.
Breakfast: Chocolate chia oats topped with berries.
Lunch: Leftover rice and beans with greens, tomato, broccoli, avocado, salsa and lime 
Snack: A sliced peach and blackberries—absolutely perfect
Dinner: A Dr. Praeger's veggie burger on a whole wheat sandwich thin with greens, roasted pepper and smoked mozzarella; steamed broccoli with nutritional yeast—worst food photo ever
Snack: Ugly-but-good chocolate banana soft-serve with a crumbled date ball and a small chunk of the mini banana coconut cream pie my mom gave us the other day
Hope you had a good Wednesday. What was the best thing you ate? 
Hungry for more?
Subscribe to get the latest nutrition information, self-care strategies, and healthy living tips delivered right to your inbox.