Welcome to another "What I Ate Wednesday" post. You can visit founder Jenn's blog for more on the series.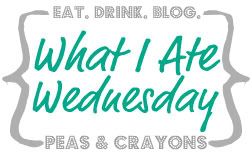 Today was another half-day that started late. I spent the morning working and writing before I took a walk. It was a really easy afternoon at the clinic. When I got home, Chris was getting stuff together to start the laundry and announced that it was his turn to pay for dinner and hey, how about Mexican? I guess he'd picked up on my "I could really go for a cold beer and food that goes with cold beer" vibes. The food is always good at El Azteca, and tonight it did not disappoint.
When we got home, I folded my clothes and played with my new suitcase. Thinking of all the trips I have coming up in the next few months kind of makes my heart soar a little.
I think this is the first What I Ate Wednesday that has included a restaurant meal! That's probably because it's the first week I haven't had class on a Wednesday night. It was nice to eat dinner at a human hour instead of sit in a classroom…
Breakfast: Weird-looking but very good smoothie (why don't I add cocoa powder more often?)
Lunch: Fried egg sandwich on two flax waffles; salad on the side; grilled peach with yogurt for dessert
Snack: Yogurt mixed with cocoa powder and flax, topped with a crumbled date ball. Looks gross, I know, but I was too hungry to care about beauty…
Dinner: Vegetable enchilada; Corona
Snack: Sliced apple with a little almond butter
Hope your Wednesday was a good one. What was the best thing you ate? 
Hungry for more?
Subscribe to get the latest nutrition information, self-care strategies, and healthy living tips delivered right to your inbox.