So this week marks a very special edition of What I Ate Wednesday.  It is officially my last week as a dietetic intern—graduation is tomorrow night! I still remember how excited I was the day I found out I'd gotten into the program. When I first started participating in the WIAW blog-hop, I was still almost a year from starting, and here I am, about to wrap it up. As always, thanks to Jenn for hosting the weekly link party. To see more WIAW from other bloggers, visit Peas & Crayons.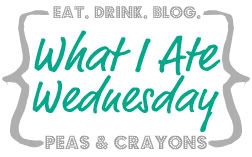 Here's what I ate on Monday. It was a busy day of running around to meetings, studying, and cleaning, so I needed to make sure I kept my energy up.
Breakfast: Oatmeal with a chopped plum & ground flax, topped with applesauce & peanut butter
Lunch: salad with a Trader Joe's salmon burger; toast with hummus and roasted eggplant; an unpictured square of dark chocolate
Snack: Greek yogurt with berries & cereal
Dinner: Whole wheat pasta with leftover roasted veggies & kale, chicken, and parm
Snack: sliced banana with nonfat ricotta and 1/2 tsp maple syrup
What's the best thing you've eaten recently?
Hungry for more?
Subscribe to get the latest nutrition information, self-care strategies, and healthy living tips delivered right to your inbox.