Wednesday totally snuck up on me this week. Cheers to another What I Ate Wednesday.  As always, thanks to Jenn for hosting the weekly link party. To see more WIAW from other bloggers, visit Peas & Crayons.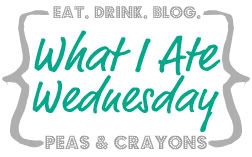 Even though I'm in a rotation that has me working from home a lot—aka "professionally developing," I still feel like I've been super-busy. thanks to some good and weird surprises and opportunities.
Yesterday happened to be my last first day of school maybe ever. I'm not gonna lie—I'm overjoyed at the prospect of being done with my masters in less than four months. I have no idea how the work is going to get done, but it always does, doesn't it? I swear, though—the whole classroom must have heard the deep breaths I was taking.
Here's what I ate to keep myself going throughout the day…
Breakfast: Pumpkin pancakes topped with ricotta, syrup, and cinnamon; plum on the side
Lunch: Tortellini soup; salad
Snack: Greek yogurt with cinnamon, berries, and cereal
Dinner: brown rice with a mix of shredded brussels sprouts, sauteed mushrooms,and roasted broccoli; turkey bacon—topped with balsamic and grated pecorino; a piece of dark chocolate with ginger
Snack: Sliced banana and blueberries with PB2 mixed with cocoa powder and more pumpkin
What's the best thing you've eaten recently? 
Hungry for more?
Subscribe to get the latest nutrition information, self-care strategies, and healthy living tips delivered right to your inbox.