And somehow it's Wednesday again. Here's to another What I Ate Wednesday.  As always, thanks to Jenn for hosting the weekly link party. To see more WIAW from other bloggers, visit Peas & Crayons.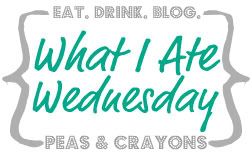 This Monday marked the start of my "professional development" rotation. I actually feel really lucky to have this rotation last—I have some coffee dates and networking events planned, but perhaps more importantly, I'm hoping it will help me ease into the great unknown of post-internship land. Going from having a set schedule (even one that changes every three weeks) to not really having a schedule scares me a little.
Because my schedule is more flexible for the next few weeks, I woke up without an alarm Monday, which was so nice! I was still feeling a little wiped from my weekend cold, but well enough to haul it out to New Jersey for a doctor's appointment (another month, another suspicious mole to cut off). My mom was working from home, so we were able to have lunch first, which was great!
I didn't stick around too long after my appointment, but I had a nice visit. Luckily, the removal of the aforementioned suspiciousness was quick and relatively painless, though I'm now sporting an attractive little bandaid on my neck. Oh well. I've dealt with worse—aka this summer, when I spent three weeks with stitches in my chest and no painkillers.
Anyway. I didn't even mind the traffic on the way home, since it gave me a chance to just relax and listen to music. I even made it home in time to make a "real" dinner. It was the first night in a while I actually felt hungry enough to eat something other than soup, so that was kind of a relief. Here's the rest of what I ate Monday…
Breakfast: Chocolate oatmeal with egg whites—and pumpkin cooked in—topped with pumpkin-and-chocolate PB2…mousse? I never know what to call it…
Lunch: Steak salad with my mom.
Snack: (unpictured) clementine and later, kombucha while cooking
Dinner: Brown basmati rice (with curry powder & raisins cooked in), baked tofu, and lots of veggies, avocado on top
Snack: Plain yogurt with berries and cereal—nothing new
And then I peaced out with some NyQuil and slept for 10 hours. It was glorious. I woke up feeling 99.999% back to normal. And by normal, I mean pre-staff relief normal!
Do you lose your appetite when you're sick? What's the best thing you've eaten recently? 
Hungry for more?
Subscribe to get the latest nutrition information, self-care strategies, and healthy living tips delivered right to your inbox.