Well, well, well. Another week, another What I Ate Wednesday. As always, thanks to Jenn for hosting the weekly link party. To see more WIAW from other bloggers, visit Peas & Crayons.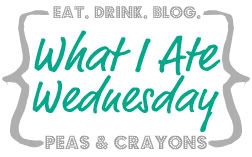 Hope you're having a good week! I'm spending mine in a bionutrition lab, pouring formula, analyzing recipes, and learning about study protocols—not my calling, but certainly interesting. With graduation planning in full swing and some writing projects on my plate, I've been really busy.
Here's what I ate on Monday…
Breakfast: zucchini bread oatmeal 
Lunch: pork tenderloin and string beans, a few sips of milk (it was either this or a sad, picked-over salad-bar selection)
Dinner: mixed greens with roasted peppers, avocado, and balsamic; whole wheat rotini with leftover warm brussels sprouts salad (loosely inspired by this recipe, but with turkey bacon instead of pork and no almonds) ; red wine; an unpictured square of dark chocolate
Snack:  Greek yogurt with berries and cereal
What's the best thing you've eaten this week? 
Hungry for more?
Subscribe to get the latest nutrition information, self-care strategies, and healthy living tips delivered right to your inbox.