Another week, another What I Ate Wednesday. As always, thanks to Jenn for hosting the weekly link party. To see more WIAW from other bloggers, visit Peas & Crayons.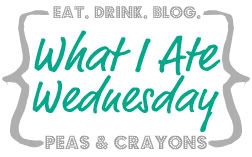 I can't believe I'm almost done with my Burn Unit rotation, which is the last of my clinical stuff. All I have to say is, well, holy crap. Rather than show you pictures of Greek yogurt eaten at 6 a.m. in the dark and plates of hospital tilapia and watery veggies, here's a look at what I ate this past Saturday.
After a morning hot yoga class, I met my sister for lunch and a movie date. I'm not someone who generally cries at movies, but I started bawling about 5 times during Les Miserables. After that, it was a quick stop home and then dinner with one of my fellow interns for chitchat and graduation planning. Good times.
Breakfast: chocolate oatmeal (yep, with egg whites), topped with a little peanut butter
Lunch: mixed green salad with chicken at a local restaurant
Snack: leftover purple cabbage & mushrooms, topped with some hummus (weird but good)
Dinner: at Osteria Cotta, a friend and I shared some mushroom & eggplant appetizers and then a mushroom pizza with white truffle oil; lambrusco & Sangiovese also happened
Snack: (unpictured) berries
How did you spend your Saturday? What's the best thing you've eaten recently? 
Hungry for more?
Subscribe to get the latest nutrition information, self-care strategies, and healthy living tips delivered right to your inbox.