Another week, another What I Ate Wednesday. As always, thanks to Jenn for hosting the weekly link party. To see more WIAW from other bloggers, visit Peas & Crayons.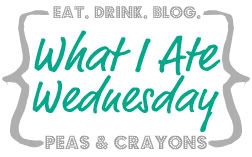 This past Saturday was both the last Saturday of 2012 and my last weekend day working at the hospital as a dietetic intern. Reading that, I wish it meant I'd already secured a job in clinical, but with graduation still a month a way and a licensing exam in the future, it still feels a bit far away. I've only just begun the honest-to-goodness planning phase of my job search.
That said, one foot in front of the other, one day at a time, and always with an open mind. I'm actually really happy to have been able to wrap up all my weekend days before the end of the year—it just feels right.
So here's what I ate on this "day of lasts." Not too bad for a quiet, snowy Saturday.
Breakfast: Chocolate oatmeal topped with (thawed) frozen berries and chocolate PB2
Lunch: Packed salad, soup from the cafeteria
Snack: An apple, decaf coffee that was too gross to drink
Dinner: Whole wheat pasta with veggies and non-fat ricotta & grated pecorino, a glass of red
Snack: Plan yogurt with cocoa powder and a leftover red velvet Christmas cookie from the freezer
What was the best thing you ate this weekend? 
Hungry for more?
Subscribe to get the latest nutrition information, self-care strategies, and healthy living tips delivered right to your inbox.