Another week, another What I Ate Wednesday. As always, thanks to Jenn for hosting the weekly link party. To see more WIAW from other bloggers, visit Peas & Crayons.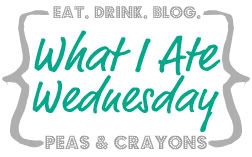 After a relaxing weekend in New Jersey, I hit the ground running on Monday. The morning started with a crash course in insurance billing, followed by time in the library with my partner to work on a project. After that, I taught a class on dietary fats—even on days where I wake up feeling "minimally verbal," the second I'm in front of a group, I perk right up, so I had a good time. From there, it was a quick break for lunch and then an afternoon at one of the outpatient clinics.
It would have been nice to go home and get a jump on the pile of projects I have due within the next week, but I had to go to class first. Good times. Actually, my professor gave last week's exams back. I did better than I thought I would (if not an A). My prof also left a funny note next to my essay questions that said, "This is why I saved your test for the middle of the pile when I started losing steam!" I tend to be very conversational and work in personal anecdotes when talking about things like vitamin deficiencies because it helps me focus and actually get the information out. Good to know I'm not just amusing myself…
So yeah, Monday. Welcome back to the working week. Here's what I ate to keep me going.
Breakfast: oats with flax, chia seeds, apple, and cranberry, topped with melty peanut butter
Lunch: Chili, cornbread, salad 
Snacks: Dry roasted edamame, seaweed snacks, apple
Dinner: Grits with kale & roasted veggies, topped with a poached egg and grated aged gouda leftover from Thanksgiving 
Snack: Greek yogurt with raspberries, cereal, and dried cranberries 
What are some of your favorite foods to get you through a busy day? 
Hungry for more?
Subscribe to get the latest nutrition information, self-care strategies, and healthy living tips delivered right to your inbox.