Another week, another What I Ate Wednesday. As always, thanks to Jenn for hosting the weekly link party. To see more WIAW from other bloggers, visit Peas & Crayons.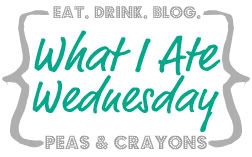 Because of the Thanksgiving holiday, I was lucky enough to have a two-day workweek. Yes, please! Since I may have to work Christmas Eve, I'm going to take whatever I can get at this point, and thoroughly enjoy the time I do have to spend with my family and friends. One of the most valuable things this internship has taught me so far is to just go with the flow and appreciate the small, good things.
I've also learned that it's important to make time for yoga, meditation, and other stress-relieving activities! Monday was my first day of a new rotation and also the day of an exam on anemias, so it was kind of a marathon. Here's how I kept myself going…
Breakfast: Zucchini bread oats in an almost-empty peanut butter jar 
Lunch: Cafeteria salad; an apple 
Snack: Simply bar 
Dinner: Whole wheat pasta with greens, veggies, peas, and non-fat ricotta and grated pecorino (trying to use stuff up before I go out of town)
Snack: Sliced banana with cinnamon and a piece of dark chocolate with ginger (my favorite)
So yeah, this thanksgiving, I am thankful for a few days off—among other things…
What are you thankful for this Thanksgiving?  
Hungry for more?
Subscribe to get the latest nutrition information, self-care strategies, and healthy living tips delivered right to your inbox.