Another week, another What I Ate Wednesday. As always, thanks to Jenn for hosting the weekly link party. To see more WIAW from other bloggers, visit Peas & Crayons.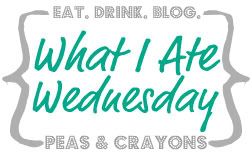 I don't know about you, but I find that when I'm single (or in that stage of the relationship where I need even more "me" time and start faking headaches) it's easy to fall into food ruts. For me, that tends to involve lots of oatmeal, salads, soup, and eggs. It's not that these are bad foods, but eating the same few things makes me feel like my grandfather, who ate soup everyday for lunch when he lived with my family.
The only first-date question I hate more than "So, uh, do you mind if we split the bill?" (I always offer anyway, but please don't wait until after you scan the check to decide whether I'm worth the extra half) might be "What's your favorite book?" I'm being slightly hyperbolic, but that question just fills me with dread, mostly because I feel super-pretentious waxing on about John Irving and Bukowski and Joan Didion and my weakness for music non-fiction. It's also because I'm afraid to talk about Julia Cameron's The Artist's Way. Reading this "guide to living the artist's life" at 19 was life-changing and affirming, but it's hard to feel like a grown-up when you're talking about nurturing your "inner artist child."
However, it's an important message: we need to take care of ourselves and tune in to that little voice that's so easily ignored as we go about our busy days. One thing Cameron talks about is taking yourself on "artist dates," and while I can't say I always find time to physically go to, like, museums and such by myself, I do try to be nice to myself and not be overly critical or impatient. I like the idea that you should "date" yourself. You wouldn't be a jerk to someone you really liked and wanted to keep around, so why not treat yourself with the same consideration? Not that you shouldn't do this when you're in a relationship with another person, of course.
This past weekend, for example, I took myself to a favorite yoga class Saturday morning and got a massage on Sunday. I also took a little extra time to enjoy some nice meals. Yes, there was still some soup and some eggs consumed, but mixing in a few fancier things was a nice change of pace.
Breakfast: Sunday morning's pumpkin pancakes were so freaking good. I wish I made time for this more often.
Lunch: Baked salmon with rosemary (when you're cooking for yourself, it's extra-okay if presentation is less than perfect-whoops) served alongside a salad with roasted veggies and hummus instead of dressing —another bonus: this cost about $7 to make at home, much less than I'd have paid in a restaurant.
Dinner: Bareburger with friends after a ladies' yoga-date. Whether you're dating yourself or another human, time with friends is important!
Do you date yourself?
Hungry for more?
Subscribe to get the latest nutrition information, self-care strategies, and healthy living tips delivered right to your inbox.