Another week, another What I Ate Wednesday. Well actually, not just any other "another week," but election week. However, you'd be best going to another blog for political commentary. Though I don't exactly shy away from discussing sex, death, or even religion, there are people far more qualified to talk politics. What am I missing—love? Anyway, I do hope you guys went out there and voted with your votes yesterday!
As always, thanks to Jenn for hosting the weekly link party. To see more WIAW from other bloggers, visit Peas & Crayons.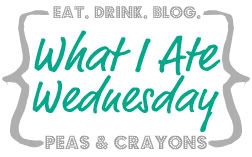 Last week, I shared some of what I ate while helping out at the hospital during and just after Hurricane Sandy. This week I'll give you a glimpse at what I ate while working the weekend.
I actually kind of like working weekends at my current site because the pace is so much more mellow and it gives you more of a chance to talk to other members of the care team, but it's still, well, working the weekend when you feel like all your friends are outside playing. I like to pack myself a "fancy" salad so at least I have something to look forward to at lunch—and also because the cafeteria all but shuts down anyway. Here's what I ate on Sunday…
Breakfast: steel-cut oats w/ chia seeds, pumpkin & plum (in one of my new bowls!), topped w/ apple sauce & PB
Lunch: Salad from home and soup for the cafeteria. Mmm, sodium…
Dinner: Random roasted veggies & kale tossed into whole wheat pasta with spices (garlic, oregano, red pepper flakes) and nonfat ricotta; dark chocolate for dessert 
Snack: Plain yogurt w/ frozen blueberries, dried cranberries & cereal 
Do you ever talk about sex, death, religion, or politics? Love? 
Hungry for more?
Subscribe to get the latest nutrition information, self-care strategies, and healthy living tips delivered right to your inbox.