Welcome to another What I Ate Wednesday. Check out the sweet new button, courtesy of Jenn over at Peas & Crayons. You can find out more about the series on her blog and check out what other bloggers ate this Wednesday!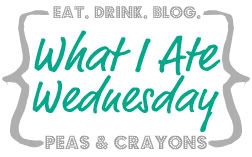 Anyone else in the northeast having a big hair week? I mean, holy crap—I've been walking around with, like, perpetual sex hair. Or just crazy-person hair. It's a fine line.
Anyway.
This Wednesday was a bit of a whirlwind. Summer classes have started, and I've been taking on some more work and volunteer responsibilities recently. Some email troubles have been getting the better of me the past few days, but I've been trying to stay upbeat and breathe through the madness.
Today was pretty run-of-the mill for me, food-wise. It was all about keeping up with the ridiculousness and accompanying changes in scenery.
Breakfast: Overnight oats topped with berries
Lunch: Packed a salad topped with homemade baked falafel (recipe coming soon) and makeshift tahini dressing; an apple for dessert and amaranth crackers
Snack: Greek yogurt with a crumbled date ball
Dinner: Broken egg-white omelet filled with broccoli and cottage cheese (I wanted to see how it tasted—pleasantly surprised), Ezekiel sprouted-grain toast, extra broccoli, leftover rose wine (don't judge)
Snack: Fitnessista-style "cookie dough cereal"(1/4 cup oats + 1 tbsp almond butter + cinnamon + almond milk+a few banana slices)
What a day…I'm torn between collapsing into bed and getting back to work. Hope your Wednesday was a good one!
Hungry for more?
Subscribe to get the latest nutrition information, self-care strategies, and healthy living tips delivered right to your inbox.