Welcome to another What I Ate Wednesday. To see more about this series, visit Jenn's blog, Peas & Crayons.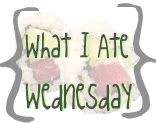 I woke up early to a miserable, rainy day. Awesome. Fortunately, I felt a little less cranky after some gym-time. I've found that mentally, I do better on a crappy day when I exercise in the morning—I'm better off taking my rest days when it's nice out and I'm less prone to gloomy moods. On top of it being gross out, you could seriously tell it was still full moon weather today—by lunchtime, my head hurt from smiling and nodding and staying calm. Luckily, I finished all the stuff I needed to do pretty quickly and got home in time to catch up on some freelance projects.
The Elvis Costello show I was supposed to go to this evening was canceled due to bronchitis, but I was kind of okay with not having to go out in the rain.
Anyway, onto the "what I ate" part of this What-I-Ate-Wednesday…Hope you had a good one!
Breakfast: I was so out of it I almost forgot to take a picture! Overnight oats made with yogurt, oats, chia seeds, and banana topped with berries
Packed Lunch: Brown rice with roasted broccoli and cauliflower and seitan; an apple for dessert 
Snack: Green smoothie (kale + frozen peach slices + frozen strawberries + ice + 1/2 c yogurt) topped with a spoonful of granola
Dinner: Salad with miso-tahini dressing and two eggs on a slice of toasted homemade bread; kombucha to drink
Snack: Fitnessista-style "cookie dough cereal" (1/4 cup oats + 1 tbsp almod butter + cinnamon + 1 tbsp cocoa powder + almond milk)—weird-looking but good
For the record, I do have multiples of the same bowl! And if I didn't, I would wash it between uses!
I think yoga needs to happen tomorrow. There's almost nothing a good stretch can't fix. Or do I mean to say a good stretch can fix almost anything?
Hungry for more?
Subscribe to get the latest nutrition information, self-care strategies, and healthy living tips delivered right to your inbox.