…and Wednesday manages to sneak up on me once again. You know what that means…another What I Ate Wednesday. As always, thanks to Jenn of Peas & Crayons for hosting the link party! Visit her site to see more bloggers' WIAW.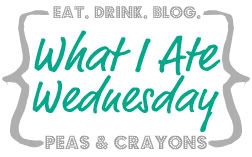 Now that we're at the halfway point of the week, I finally feel like my caffeine withdrawal demons have backed into their cave. I made it through the day with only a few inappropriately-timed yawns and no headache to speak of. Sweet.
I've been having insane dreams, though, but I suppose that's pretty typical. Last night I dreamed I was a bridesmaid in my sister's wedding but somehow part of the band too. As all my dreams about weddings, I was the unprepared bridesmaid. Go figure that's my recurring anxiety dream. In this one, I forgot to dye my white dress tea-colored until the morning of the ceremony. Whoops. The lead guitarist/singer of the band, who was six-foot-something scary and skinny asked if I was like him, "the same but different on the inside." Then he playfully punched me on the arm. Well all right then. I woke up just as I was reading my own hepatic protein labs.
I've been crazy-busy with internship stuff and side projects, but things on the food front has been pretty good, even if the pictures suck. Here's what Monday looked like…
Breakfast: steel-cut oats with pear, chia, flax, and dried apricots, topped with sunflower seed butter.
Lunch: cafeteria salad that was better than it looked—cabbage, garlicky chickpeas, and random veggies; yogurt
Snack: an unpictured orange
Dinner: smoked salmon with avocado on an Ezekiel English muffin; massaged kale salad with goat cheese; a piece of chocolate
Snack: Plain yogurt with cocoa powder, berries, and cereal
What's the best thing you've eaten this week? Any weird dreams lately?
Hungry for more?
Subscribe to get the latest nutrition information, self-care strategies, and healthy living tips delivered right to your inbox.