Another week, another Wednesday. You know what that means…another What I Ate Wednesday. As always, thanks to Jenn of Peas & Crayons for hosting the link party! Visit her site to see more WIAW from other bloggers.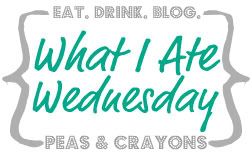 I'm someone who can always make time to eat, but for some reason, lately it's really easy for me to get absorbed in what I'm doing and not realize I'm hungry until I've reached that point of no return. Any notes I attempt to write in that half-hour before lunch, I can pretty much guarantee I'll have to revise them after. But then I eat and it's all good. Overall, I have a lot more energy this go-around thanks to a kinder schedule. This 8-4 really works for me.
Monday was kind of a weird day but here goes…
Breakfast: Made-ahead steel-cut oats w/ apple, dried apricot, chia & flax and spices, topped with PB and applesauce 
Lunch: A pretty weak cafeteria salad. Later, I had an orange. Meh. 
Dinner: A "what's still good in the fridge" concoction of spaghetti squash, lentils, veggies, and goat cheese. Seriously, it was like a page out of a clean-eating stoner-food cookbook. So freaking random. But delicious.
Snack: Yogurt with cereal, banana and berries
Do you ever forget to eat? What's the best thing you've had recently? 
Hungry for more?
Subscribe to get the latest nutrition information, self-care strategies, and healthy living tips delivered right to your inbox.