Another week, another Wednesday. You know what that means…another What I Ate Wednesday.
As always, thanks to Jenn of Peas & Crayons for hosting the link party!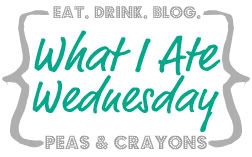 Aside from almost falling asleep while charting on the floor Monday, this week has been pretty good. I think I'll get a lot out of this rotation. I also think I'll be packing my lunch a lot more often—some sites have better cafeterias than others. Besides, sometimes it's nice to change things up a bit.
Of note: I've been making a lot of typos lately, thanks mostly to sleep deprivation. Feel free to laugh at me, but don't be surprised if you come back later to find an edited version. I think all my grammar skills are going to medical records or something. As long as I don't start writing blog posts in hospital jargon I think we're good…
"Pt reports participating in 'What I Ate Wednesday.' 3 meals/day plus snacks—vegetables, whole grains, eggs, fish, yogurt, etc. Alcohol in moderation…"
Since I've been posting mostly Mondays' eats, here's what Tuesday looked like this week.
Breakfast: Steel-cut oats w/ chia seeds and plum, topped with PB & fig butter 
Lunch: Packed a massaged kale salad w/ leftover falafel, roasted veggies, goat cheese and miso-tahini dressing; baba ganoush with crackers and baby carrots 
Snack: Apple w/ PB2 & pumpkin mousse (aka weird-good concoction of the moment) 
Dinner: Pumpkin grits (made in the microwave, of course) with leftover roasted veggies, scrambled egg + white (also made in microwave) and cheddar cheese 
Snacks: at writers' group, an unpictured drink and cookie; later, yogurt w/ cocoa powder and berries 
Yes, I know I use my microwave to make a lot of things these days…
What foods do you make in the microwave? 
Hungry for more?
Subscribe to get the latest nutrition information, self-care strategies, and healthy living tips delivered right to your inbox.