Welcome to another edition of What I Ate Wednesday. You can find out more about the series at Peas & Crayons and see other bloggers participating.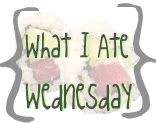 I was home sick this Wednesday with the usual end-of-semester cold I always say I'm going to avoid yet still come down with despite my best efforts. Luckily, this go-around hasn't been so bad. After a few days of drinking lots of tea, smoothies and hot turmeric drinks, I'm feeling almost all better—I can finally taste again. I always try to up the veggies when I'm under the weather, and it seems to have helped. Hopefully I'll be good as new for my friends' wedding this weekend.
One good thing about being home sick was that I had time to rest and cook and do yoga and —oh yeah—study for my 8 pm final, which actually went pretty well.
Hope your Wednesday was a good one!
Breakfast: Chocolate raspberry oats topped with more berries
Lunch: Ezekiel english muffin—hummus on one side, egg on the other—and a big salad with tomato, roasted peppers, broccoli, and avocado in miso-tahini dressing
Snack: Green smoothie (kale + frozen banana, strawberries, peaches + 1/2 c kefir + ice) with some raw oats mixed in for texture
Dinner: Lots of Bs—Brown rice, Brussels sprouts, broccoli, and baked tofu
Snack: Sliced apple with almond butter
All in all, a very colorful day.
Hungry for more?
Subscribe to get the latest nutrition information, self-care strategies, and healthy living tips delivered right to your inbox.