Hello hello. Welcome to another What I Ate Wednesday! As always, thanks to Jenn over at Peas & Crayons for hosting the link party.
Tuesday flew by. Do you ever have a day (or who are we kidding, a week) where the second your inbox is empty, five (or fifteen) emails magically appear and oh sh!t—don't you have a meeting in three minutes? Yeah…At least I had some good food to keep me going. Thank god for coffee, cooling eye gel, and morning endorphin boosts.
Breakfast: Steel-cut oats w/ chia seeds, plum, pumpkin, spices, and peanut butter
Lunch: Veggie burger with eggplant and Trader Joe's lentil masala dip; side salad 
Snack: Plain yogurt w/ cocoa powder, 1/2 a banana, cereal
Dinner: Spaghetti squash w/ kale, broccoli, cauliflower, homemade marinara, Tofurkey sausage and parm
Snack: Frozen waffle topped w/ peanut butter & blueberries
What foods do you reach for when you need to keep your energy up?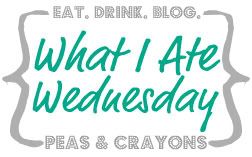 To see more WIAW from other bloggers, visit Peas & Crayons.
Hungry for more?
Subscribe to get the latest nutrition information, self-care strategies, and healthy living tips delivered right to your inbox.