Wednesday already? Does anyone else feel like this week is going really quickly?Guess that means it's time for another What I Ate Wednesday post. As always, thanks to Jenn for hosting the link party.
Even though I stayed close to home most of yesterday waiting for a couch to be delivered,  I felt like I was on my feet all day. I took advantage of my housebound-ness to prep and freeze a bunch of food for the next few weeks in between work assignments, and it wore me out.  Confession: I often write standing up. I have no idea where I picked up the habit, but I've been doing it since I was in high school. It helps me think.
The couch did finally arrive, and I couldn't be happier with it. My ex took the futon when he moved out (I did not agree with him that it was "a nice piece of furniture" and was happy to see it go), so even though it's only been a few months,  it was so nice to be able to put my feet up and not have a big blank space in the middle of the apartment. Cheers to Going Out of Business sales.
Yesterday's meals were of the quick & easy variety. Just one of those days.
Breakfast: Oats with  plum, chia seeds & peanut butter
Lunch: Kitchen-sink salad with spinach, roasted veggies, cherry tomatoes, goat cheese, sunflower seeds & balsamic and a cut-up Trader Joe's masala burger
Snack: Greek yogurt with berries and cereal (recycled picture thanks to tech problems)
Dinner: Homemade butternut black bean chili (recipe coming soon) with kale underneath, sharp cheddar on top, and a side of whole wheat cornbread
Snack: Unpictured glass of white wine at writers' group; reheated brownie (1 box Trader Joe's mix + 1 cup pumpkin puree = brownies you can cut into single servings and freeze for those emergency chocolate cravings) with peanut butter and blueberries
To see more WIAW posts from other bloggers, visit Jenn's blog, Peas & Crayons.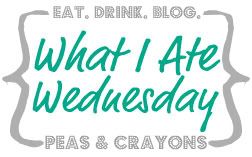 Hungry for more?
Subscribe to get the latest nutrition information, self-care strategies, and healthy living tips delivered right to your inbox.