Happy What I Ate Wednesday. How's your week going? Mine's been a little busy and kooky, but no complaints here.
A big part of eating well, I believe, is keeping healthy foods on hand so that's what you have to reach for when it's time to eat. Yes, this requires some planning ahead, especially if you're trying to get into a new routine, but after awhile it becomes second nature and you start to fall into a groove.  Mixing up those familiar, healthy options over the course of your week is one way to keep from feeling like that groove has become a rut.
One area in which I fail at mixing it up is cereal. I'll get on a jag with a particular variety and just buy that one kind of months at a time. My excuse is that if I bought too many kinds at once, they'd all go stale before I could finish them. That's valid, right? Case in point: after months of topping my yogurt with Puffins, I got a taste for something from the shredded wheat camp and picked up a box of Kashi's Autmn Harvest last time I went to Trader Joe's. About damn time. It's healthy to remind oneself that there are other whole grain cereals out there!
I'm also pretty loyal to oatmeal, which is technically a cereal, but that's not changing anytime soon. Since there are so many different kinds of ways to enjoy oatmeal, its' hard to get sick of. When it comes to certain things, if it ain't broke, don't fix it.
This day is a pretty good example of using foods kept on hand to throw together balanced meals and snacks in a hurry. While I wouldn't recommend having the same snack twice in one day, certain times of the month, I find I crave yogurt like crazy.
Breakfast: Repeat of Saturday's oats w/ pear, chia seeds, cottage cheese, and TJ's fig butter
Lunch: Soup; side salad; toast w/ hummus & roasted pepper
Snack: A very ugly bowl of greek yogurt w/ cocoa powder, berries, and cereal
Dinner: Whole wheat soba noodles with baked tofu & tons of veggies
Snack: Yogurt w/ berries & cereal—again. I blame my hormones for making me crave calcium-rich foods
Do you ever eat the same snack twice in one day?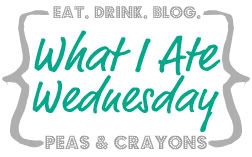 To see more WIAW from other bloggers, visit Jenn's blog Peas & Crayons!
Hungry for more?
Subscribe to get the latest nutrition information, self-care strategies, and healthy living tips delivered right to your inbox.