Happy Wednesday. Now that we're halfway in, how's your first week of 2012 going?
This week I've got another What-I-Ate-Tuesday WIAW post since Wednesday's gonna be a little busy. Tuesday was busy too, but slightly more conducive to snapping crappy iPhone photos of the day's meals. I'm half-kidding about the bad photos. I apologize in advance. Some days I rush a little.
Due to a gas leak, the gas in my part of the building had been turned off since early Monday morning. This was a drag, sure, but there was nothing to do but roll with it. Luckily, it's only cooking gas, so I still have heat. If nothing else, college taught me how to get by with little besides a microwave to cook with, so it was actually a chance to see how creative I could get.
Though I was out and about for a while in the afternoon, I spent a lot of time at my desk pounding out work emails, edits, rough drafts and the like. I love when I'm able to get in the zone—during school semesters, it can be hard to focus when I've got exams and papers nagging at me in addition to work deadlines, so I'm always thankful for a clear-headed, productive stretch of time.
For someone without a functioning stove, I actually did a pretty decent job in the food prep department. What these meals and snacks lack in attractiveness, they more than make up for it in taste and nutrient density. Ugh. I just said "nutrient density" in the blog equivalent of casual conversation. Maybe I'm still under the influence of grad classes just a little bit…
Breakfast: Oats with banana, flax, strawberries and peanut butter; coffee with frothed skim milk
Lunch: Leftover split pea soup with kale and nutritional yeast; microwave pumpkin cornbread 
Snack: Plain yogurt with half a banana and some puffins cereal
Dinner: Brown rice with steamed kale & broccoli with 2 microwave-poached eggs, topped with miso-tahini sauce and goat cheese
Snack: Same one I can't get enough of lately—microwaved chopped apple with cinnamon and biscoff
Surprisingly, I did all right not having the stove as an option. Here's to hoping the problem gets fixed today, though!
Do you have any microwave-friendly specialties? What's your favorite meal of the new year been so far? 
As always, thanks to Jenn for hosting the What I Ate Wednesday link party! Visit Peas & Crayons to see more WIAW from other bloggers!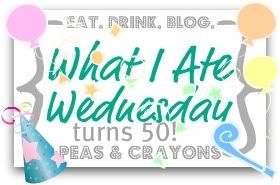 Hungry for more?
Subscribe to get the latest nutrition information, self-care strategies, and healthy living tips delivered right to your inbox.