Wow, busy day! Luckily, it was all good stuff—since getting back to NYC on Tuesday, I've been taking care of a bunch of to-do list items. This time of year is a little slow for work since a lot of people go on vacation, so I'm taking advantage of the extra time to relax and organize and clean. There's a lot coming up in 2012, and I want to be ready!
I also made time today to have lunch with a dear friend and also to get my physical for my internship. I felt like I was on my feet all day, but it felt good to get so much done and to catch up with someone I don't get to see that often.
I'm happy I'm feeling almost all better from last week's cold. Having the energy to do stuff is nice. I never appreciate good health as much as I do after being sick. So cheers!
Because I was so busy and in constant motion, I found I was really hungry all day. Good thing I had lot soy good food to keep me going…
Breakfast: Oats with pear, chia seeds, spices and peanut butter
Lunch: Egg white spinach & feta omelet, (unpictured) wheat toast and tomato juice on the side
Dinner: Roasted eggplant lentil soup with goat cheese; kale salad with roasted cauliflower and toast with hummus
Snack: Frozen waffle topped with a little PB and a plum (chopped & microwaved 3 minutes)—random but quelled the hunger beast
What was the best thing you ate this Wednesday?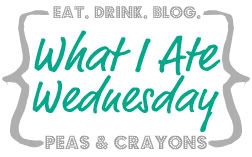 For more What I Ate Wednesday posts from other bloggers, visit founder Jenn's blog, Peas & Crayons. 
Hungry for more?
Subscribe to get the latest nutrition information, self-care strategies, and healthy living tips delivered right to your inbox.