'Tis the season—for sickness, that is! My immune system has been having its annual holiday party the past few days. This happens every December, so I wasn't that surprised when I woke up Sunday feeling under the weather. Compared to last year, this has been fairly mild. Still, I spent most of Monday and Tuesday in bed with my laptop. 
I tend to lose my appetite when I'm sick, but not this time, I guess. Despite not being very active, I was still really hungry—not only is my body working overtime to fight this cold, but of course said cold has to coincide with my favorite time of the month. Not that that was a surprise either. Just a drag. No wonder I had an intense (and rare) craving for steak Tuesday afternoon.
Since I was too out of it to get off my ass and go buy a steak (much less cook it), I reached for whatever iron-rich foods I already had on hand.
Breakfast: Oats w/ plum & chia seeds, topped with peanut butter and homemade cranberry sauce. 
Lunch: Red lentil pumpkin soup with kale and goat cheese; toast with hummus; turmeric tea sipped throughout the day
Snack: Yogurt w/ more cranberry sauce & cereal
Dinner: On-the-fly mushroom-leek miso soup with kale, topped with a microwave-poached egg; more toast with hummus
Snack: Chopped apple & cinnamon, microwaved for 2.5 minutes, topped with Biscoff
Do you tend to get sick the same time every year? What do you eat when you're sick?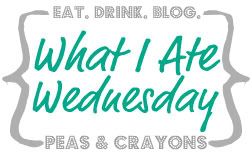 For more What I Ate Wednesday, visit Jenn's blog Peas & Crayons to see what's on other bloggers' plates this week!
Hungry for more?
Subscribe to get the latest nutrition information, self-care strategies, and healthy living tips delivered right to your inbox.