Cheers to another What I Ate Wednesday post featuring Tuesday's food. Being that this time of year kicks my ass and eats my schedule, this made much more sense.
Not that Tuesday wasn't weird. It started at 3 a.m. when I couldn't get back to sleep. Despite my best efforts—tea, melatonin, multiple episodes of How I Met Your Mother—I eventually decided to stop tossing and turning at 6 and hit the gym instead, deciding I would do through my usual morning routine in hopes of feeling ready for a nap after breakfast. Luckily, it worked, and I snoozed from 8:30-10:30. Hey, it's better to franken together an almost-decent night of sleep than to go with none. In my book, 6 hours will always be better than 3.
I had a busy afternoon of work and errands and a flu shot, but I got a lot done. I may have face-planted for a half-hour when I got home and attempted to study more for my biochem final, but let's keep that little puddle of drool between us, shall we?
This time next week, I'll be a free woman—I am looking forward to two school-free months before my internship starts in February. I guess I shouldn't get ahead of myself though.
Here's what I kept myself fueled with yesterday:
Breakfast: Apple spice oats in a near-empty sun butter jar
Lunch: Spinach salad with tomato, cucumber, roasted red pepper, mushrooms, chickpeas, parmesan, and oil & vinegar
Snack: Yogurt with half a banana, cereal and fig butter
Dinner: 7-or-8 vegetable soup; sandwich with hummus, goat cheese, roasted pepper and eggplant and baby spinach
Snacks: (unpictured) glass of red wine at writing group; a chopped and microwaved apple with Biscoff
When you don't get enough sleep, do you rely on naps or do you power on through the day?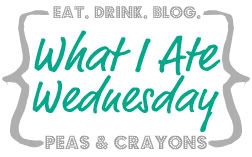 To see more WIAW posts from other bloggers visit Jenn's blog Peas & Crayons.
Hungry for more?
Subscribe to get the latest nutrition information, self-care strategies, and healthy living tips delivered right to your inbox.