Happy Wednesday—another week, another What I Ate Wednesday. I knew my day was going to be a little crazy, so I decided to share Tuesday's meals this time around. I'm going out of town this weekend, so I'm trying to use up what I can. The next few days could get a little random, but random usually means colorful, so how bad can that be?
I don't know what was up, but it took me all freaking day yesterday to get into a work groove. Some days I am super-productive in the morning and afternoon, but others it takes a while. I should be honest, though—I totally went and got a massage in the middle of the afternoon. I try to get there once a month, and Tuesday was the day. It wasn't until I got home around 4:30 that I finally felt energized and ready to get down to business. And by business, I mean articles and biochem and presentation notes. Good times. I guess I should feel lucky I can be flexible right now, though. Once my internship starts in February, I'll be putting in 40-hour weeks doing my rotations.
As far as the "What I Ate" part goes, it was a pretty normal day, save for some random carnival squash I found in the back of the fridge…
Breakfast: Oats with chia seeds, a plum, lots of cinnamon, and sunflower seed butter
Lunch: Eggs (fried in sesame oil and soy sauce) over brown rice and a pile of green veggies; little tangerine things for dessert
Snack: Yogurt with strawberries and cereal
Dinner: Random-but-good sandwich—smoked salmon with avocado, tomato, roasted pepper, and baby spinach; steamed carnival squash on the side
Snack: More random—a chopped apple tossed with cinnamon and microwaved 3 minutes; topped with a little cottage cheese. Weird, I know. It's one of those "I promise I'm not pregnant" combinations that's just really good…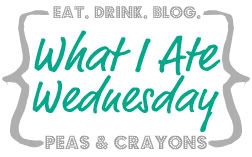 To see more WIAW from other bloggers, visit Peas & Crayons.
What are some of your most random concoctions? 
Hungry for more?
Subscribe to get the latest nutrition information, self-care strategies, and healthy living tips delivered right to your inbox.