This week's What I Ate Wednesday happens to fall on my 26th birthday. As I mentioned last week, I'm very happy to welcome a new year and a new phase in my life, and this was one of the more enjoyable birthdays in recent memory.
The morning started with an early breakfast and emails before I left to go to yoga. I had a great session, which set me up for a happy, productive day. I had big assignments due for both classes, but I was mostly just relieved to have them over with. That feeling of crossing into the homestretch of a semester never gets old. I only have one exam this time, so that makes me feel loads better.
Breakfast: Oats with plum, flax, and sunflower seed butter
Lunch: Random salad—greens, tomato, roasted pepper and eggplant, tempeh bacon, broccoli, goat cheese, and a Trader Joe's masala burger; toast with Trader Joe's fig butter
Snack: Greek yogurt with blackberries and cereal
Snack #2: V8 juice between classes
Dinner: After class, I met up with my parents at Osteria Cotta for a low-key but delicious birthday dinner. After seeing so many bloggers rave about it, I decided to get out of Hells Kitchen for a night and try something new. I have to say, I can't wait to go back.
To start, I ordered the arugula salad, which included parmesan cheese and pickled onion. I also tried some of the burrata and the roasted garlic bruschetta.
For an entree, my mom and I split the brussel sprouts pizza, which also included mozzarella, pancetta, and more parmesan. It was delicious. I rarely eat meat, but when I do, I want it to be something truly worth it. This was that something. 
For dessert, I had a few bites of the dark chocolate cake. It was the perfect little bit of something sweet to end a lovely birthday dinner. In recent weeks, my parents have been sharing some amusing little nuggets of  old(er)married people wisdom, and this meal was peppered with statements I wish I had written down. 
To drink, I enjoyed two glasses of lambrusco, one of my favorite wines. I basically have to order it whenever I see it on a menu.

So yeah, this was a good birthday. I feel kind of spoiled by all the positive energy I've experienced over the past month, but hey, no complaints.
To see more WIAW from other bloggers, visit Peas & Crayons.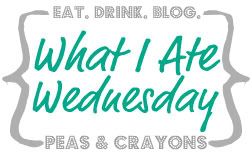 Hungry for more?
Subscribe to get the latest nutrition information, self-care strategies, and healthy living tips delivered right to your inbox.