Happy Wednesday, all! I'm heading out to see my family in New Jersey, so I decided to post about Tuesday's meals for this week's What I Ate Wednesday post.
Thanks for the kind words yesterday. I know I waited kind of a while to post about it, but for some reason it felt best to hold off until I'd had a little time to put things in the past tense.  Speaking of changes, this is the first Thanksgiving since 2007 I'm not traveling to Boston, and I have to admit, I'm so happy not to have to deal with the stress of a long-distance trip this year.
Not counting cleaning, laundry, and paper-writing, my prep this year basically involved eating the perishables in the fridge before skipping town. Not too hard to do. A lot of weird, big salads and odd sandwiches were involved. Yesterday was no exception. Here's what was on the menu…
Breakfast: Oats with a chopped plum, pumpkin, ground flax and sunflower seed butter
Lunch: A grilled cheese made with hummus, goat cheese, roasted eggplant and roasted pepper; kale chips on the side
Snack: yogurt with a plum and cereal
Dinner: Massaged kale salad with baked tofu, roasted cauliflower and roasted pepper; baked sweet potato rounds 
Snack: More yogurt and cereal
So that's that. I'm looking forward to a long weekend with family and friends.
What are your Thanksgiving plans? 
To see more WIAW from other bloggers, visit Jenn's blog, Peas & Crayons.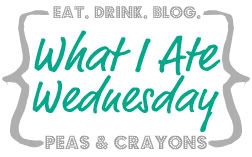 Hungry for more?
Subscribe to get the latest nutrition information, self-care strategies, and healthy living tips delivered right to your inbox.