Happy Wednesday, folks. Is it just me or was this day super-long? I blame the rain, which fell steadily all day.
My morning was pretty busy with the gym and errands and other to-do list things. I was supposed to meet a friend for lunch at Angelica Kitchen, but she had to reschedule at the last minute. No big deal—I sat down and enjoyed a nice meal by myself while I studying for a biochem exam. Sometimes a restaurant meal by yourself can be relaxing. There was an old lady sitting next to me who was acting a little strange, but nothing beyond the day-to-day NYC idiosyncrasies.
As I was getting up to leave, she leaned over and whispered, "Make sure you get a look at that man's eyebrows before you go. They're exceptional."
And they were.
I spent the rest of the afternoon in the library getting work done before class. The evening dragged a lot. By the time I got home, I was so tired, I'd have gone to bed were it not for being ravenously hungry. I guess we all have days where we kick ass or get our asses kicked. Today was a mix of both for me, but hey—sometimes you gotta work now so you can play later.
So here's what I ate on this Wednesday…
Breakfast: Apple Spice Oats, topped with PB
Lunch: Three-bean chili and Angelica cornbread
Snacks: An apple and yogurt, tea
Dinner: Random veggies topped with eggs and goat cheese; toast with hummus; a plum with dark chocolate
How was your Wednesday? What was the best thing you ate? Do you like eating in restaurants alone? 
For more What I Ate Wednesday, visit Jenn's blog, Peas & Crayons. 
tk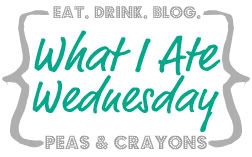 Hungry for more?
Subscribe to get the latest nutrition information, self-care strategies, and healthy living tips delivered right to your inbox.