Wednesday sneaks up on me sometimes. Yesterday really felt like a Thursday for some reason, so I was a little confused going into today. I eventually got into the swing of things, though.
Today started with some early-morning writing and then yoga. Since I got so much work done yesterday, I decided to give myself the morning off, but I went to campus early to work on a paper in the library before class started. I don't know if it truly helps me be more productive, but it makes me feel like I am getting more done, if only because I get distracted by fewer things per minute.
Before I left, though, I prepped a few ingredients for dinner and put my hair in hot rollers while I caught up on work emails. Knowing my hair looks good definitely adds a spring to my step, and after seeing how easy hot curlers are to use on the Fitnessista, I broke down and bought a set. Best $20 I've spent in a while.
When I got home around 9 pm I was pretty damn hungry, but this whole wheat butternut squash and goat cheese pizza (which also featured spinach, sage, caramelized onions, and thyme) came together really quickly. I feel like my meals have been a little uninspired lately, and dictated way too much by my schedule, so it felt good to try something new.
Here's how the rest of the menu looked on this lovely What I Ate Wednesday…
Breakfast: Oats with flax, a chopped plum, lots of cinnamon, and sunflower seed butter 
Lunch: A plate of veggies and seitan with an egg and a little goat cheese; popcorn for "dessert"
Snack: Plain yogurt, cereal, an orange
Dinner: Butternut squash and goat cheese pizza; salad; chocolate and a plum for dessert
Here's to another What I Ate Wednesday. What was the best part of your day? Food-related or otherwise. To see more from other bloggers, visit Jenn's site, Peas & Crayons.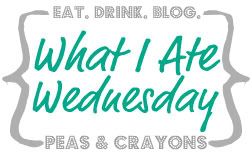 Hungry for more?
Subscribe to get the latest nutrition information, self-care strategies, and healthy living tips delivered right to your inbox.