It's another What I Ate Wednesday. Hop on over to Peas & Crayons to see what other bloggers have on their plates this week.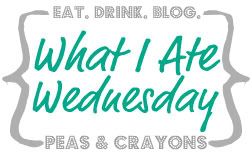 I'm not gonna lie—I was pretty damn cranky today. I think it's mostly due to sleep deprivation. Genius I am, I somehow I managed to wake up by hitting my head on the wall next to my side of the bed last night, and even though I was fine, I spent a couple hours writing and playing Words with Friends while I wound back down. I got back into bed around 5 and then slept another 3 hours, so it could have been worse, but then there's last night's full moon and today's sad bastard weather and all this studying for an upcoming exam. At one point in the afternoon, I actually said out loud, "You know what, I don't give a flying f*** about inborn errors of sugar metabolism!" and slammed my book down. Real mature, I know.
I got my emergency ukulele out for some much-needed play time. I go through phases where I need to keep it next to my desk to keep me from going insane. Nothing crushes a bad mood like playing something ridiculous. Today my neighbors got to listen to my rendition of Belle and Sebastian's "Get Me Away From Here, I'm Dying."
So maybe the day was cloudy and the workday flew by before I'd tackled half my list, but at least I had some good food to keep me going. If I'm not orange by the week's end I'll be shocked—there's a lot of beta-carotene in my system thanks to some pumpkin and kobacha squash. Another bright spot: Chris also suggested I pick up some takeout from Quantum Leap on my way home from class, which I did. Nothing like a good veggie burger after a long day.
Breakfast: Oats with banana, pumpkin, flax, and spices, topped with PB and a crumbled graham cracker
Lunch: Kale salad with pumpkin seeds, goat cheese, and an assortment of leftover roasted vegetables; last of the zucchini muffins 
Pre-class snack: Greek yogurt, Puffins cereal, chopped plum
Dinner: Black bean burger from Quantum Leap with grilled veggies and salad
How was your Wednesday? How do you handle gloomy, cranky days? Also, do you ever do stupid stuff like, um, hit your head on the wall? 
Hungry for more?
Subscribe to get the latest nutrition information, self-care strategies, and healthy living tips delivered right to your inbox.