This week's What I Ate Wednesday is actually a Tuesday. I thought I'd mix it up a little. Today, I'm shadowing one of my professors and didn't know if I'd have much time for blogging, so I figured I'd give you a glimpse into my Tuesday.
The day was all about getting sh!t done. And by sh!t, I mean a few work assignments, a class presentation, and a baking project, along with a few errands.
It was one of those days where I felt like I barely had a chance to sit down, even though I had a fair amount of work to do on the computer. I worked in short, intense bursts, which is good but, well, intense. I try not to have the same food twice in one day, but the same red lentil soup made an appearance at lunch and dinner because it was so easy. Some days it makes sense to take a long time eating a meal, and other days you just need something balanced and convenient.
Breakfast: Chocolate chia oats with strawberries and granola
Lunch: Zucchini fritters; massaged kale salad; red lentil-butternut-squash-and-apple soup
Snack: Chopped peach w/ kefir and granola
Dinner: Soup; roasted cauliflower; Ezekiel English muffin with cottage cheese, nutritional yeast, and roasted pepper
 Snack: Yogurt with cocoa powder and puffins
What are your go-to "convenience" foods?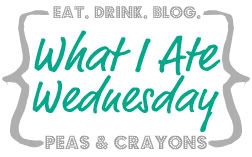 To see more What I Ate Wednesday posts from around the blog world, visit Peas & Crayons.
Hungry for more?
Subscribe to get the latest nutrition information, self-care strategies, and healthy living tips delivered right to your inbox.