Welcome to another What I Ate Wednesday. 
To learn more about the series and see posts from other participating bloggers, visit Peas & Crayons.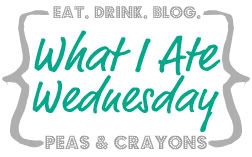 So far so good. This Wednesday night class thing actually works pretty well when I manage to stay on task with all my work during the day. I feel like I really hit the ground running this week, and my to-do list has gotten its ass kicked. I've made my goal for this week to be able to travel without my computer this weekend. I can't remember the last time I did that.
This Wednesday featured a lot of the usual suspect plus some new favorites. I've been craving eggplant like crazy lately, so I roasted one up yesterday. It's almost gone…
Breakfast: Oh She Glows-inspired gingerbread overnight oats with a crumbled graham cracker and sunbutter. Not my best creation, but also not my worst—remembering to add maple syrup would have helped.
Lunch: Veggie burger on a sandwich thin with hummus, eggplant, and roasted pepper; side salad
Snack: Yogurt and puffins with strawberries
Dinner: Egg-white omelet with broccoli and white cheddar; leftover roasted cauliflower and eggplant with tomato sauce; olives; toast
Dessert: A plum and dark chocolate
Hope you had a great Wednesdsay. What was the best thing you ate?
Do you like to travel without a computer?
Hungry for more?
Subscribe to get the latest nutrition information, self-care strategies, and healthy living tips delivered right to your inbox.