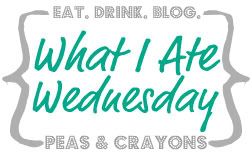 Welcome to another What I Ate Wednesday. God, I can't believe I've been doing this for 23 weeks now…To see more What I Ate Wednesday posts from other bloggers, visit Peas & Crayons. 
Today was pretty productive—by the time I left for class, I'd taken care of all my work assignments for the day and even had time to run some errands like picking up this library book (I have a shameless addiction to music nonfiction). With two out-of-town weddings coming up this weekend, I'm trying to get as much done as possible before Friday.
In other unimportant news, this week, I rediscovered peanut butter. For the past couple years, I've been eating mostly almond butter, but I've noticed that sometimes my throat feels funny (a cross between itchy and burning) after I do. Ditto raw and whole nuts. I waited a long time to get it checked out because I thought maybe it was all in my head and didn't want to seem like a hypochondriac.
However, I finally went to the allergist this summer and learned that while I don't have any allergies to nuts, I'm allergic to a pollen that often effects certain varieties, especially raw nuts. That means that when I eat those kinds of nuts, my body thinks it's eating pollen and says, "WTF?" The reaction is only in the mouth and while I was told it's not life-threatening, it's still unpleasant. Being afraid to eat one of your favorite foods really puts a damper on things.
I don't know what made me pick up the peanut butter jar again other than the fact that I saw it sitting there in the fridge and thought, "Gee, I haven't had peanut butter in  awhile." Go figure, I put it on top of some oats and felt totally fine after eating. I tried it again the next day and the next—I was so relieved not to be struggling to take a deep breath all morning. So who knows if that's really what's up, but I think I'll be sticking to peanut butter for the time being. It's got very similar nutrition stats to almond butter, tastes great, and is a lot cheaper. What's not to like?
Thanks to some shopping and cooking earlier in the week, putting together today's meals was a cinch. I love when it works out that way.
Breakfast: oats with chia seeds, pear, spices, and peanut butter
Lunch: Omelette-fail of egg whites (w/ turmeric and other spices), onion, pepper, spinach topped with avocado and served with toast
Pre-class snack: Yogurt w/ flax, a peach, blueberries, and a spoonful of granola
Dinner: Kale salad in miso-tahini dressing w/ homemade falafel, roasted pepper & cauliflower, olives and feta; hummus and whole wheat pita
Dessert: Macintosh apple slices with (yes, more) PB
Hope you had a great Wednesday!
Do you have any allergies or annoying reactions to certain foods?
Hungry for more?
Subscribe to get the latest nutrition information, self-care strategies, and healthy living tips delivered right to your inbox.